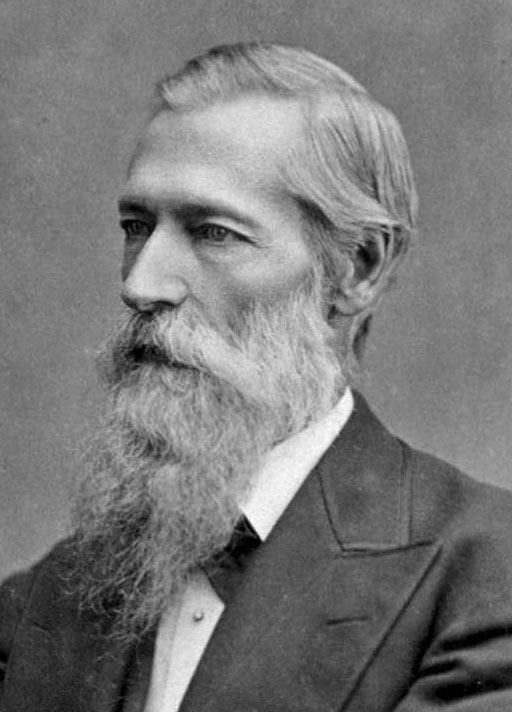 San Francisco millionaire Mark Hopkins was born in New York but moved with his family to St. Clair, Michigan in 1824 at age 11. His father, Mark Hopkins (Sr.) served as St. Clair Postmaster and Judge of Probate until his death in 1828.
In 1837, Mark Hopkins (Jr.) studied law then moved through several business ventures. When the California "Gold Rush" began, Hopkins created (together with 26 other men) a company whose business was to ship goods to California. Hopkins accompanied the goods arriving in San Francisco in August 1849. He opened a store in Placerville, California but neither that nor a wholesale grocery store succeeded.
In 1855 Hopkins and Collis P. Huntington opened a hardware and iron business in Sacramento. In 1861, he was the oldest of four partners (Hopkins, Huntington, Leland Stanford, Charles Crawford) to found the Central Pacific Railroad, part of the first transcontinental railroad.
In 1875, he began having an ornate mansion built on San Francisco's Nob Hill but died in 1878 before the mansion was completed. The mansion burned in the San Francisco earthquake/fire. The Intercontinental Mark Hopkins Hotel was built on the site in 1926.
Hopkins' wealth at the time of his death was estimated at $20-$40 million. It is told that $5 million of that wealth had been given to his brother Samuel and nephews Mark and Orrin who were St. Clair businessmen. Each of the three used the money for business investments (including St. Clair's Oakland Springs Hotel and Spa), Diamond Crystal Salt, and to build Victorian-style mansions on North Riverside Ave. Two of those mansions remain standing today.